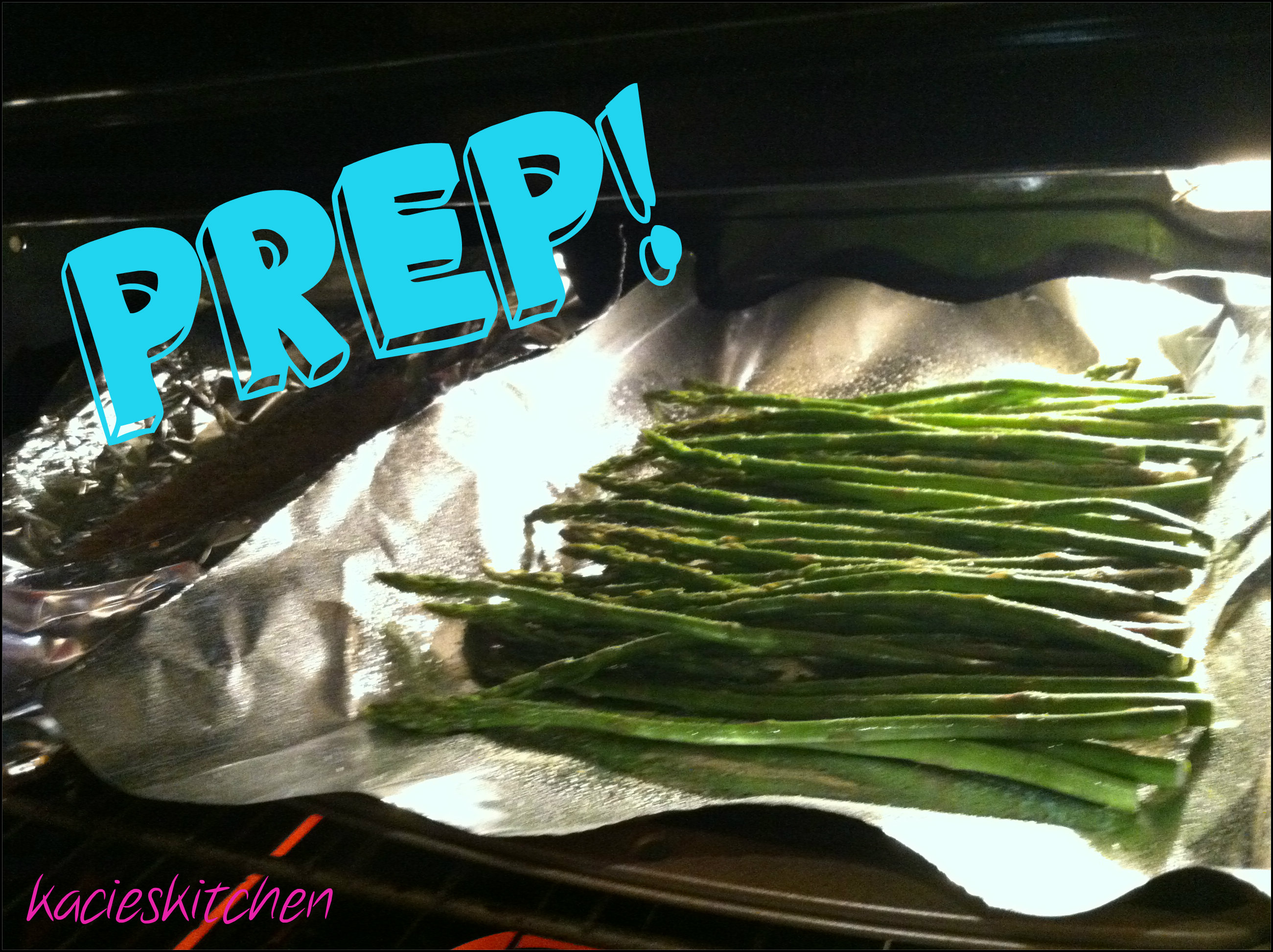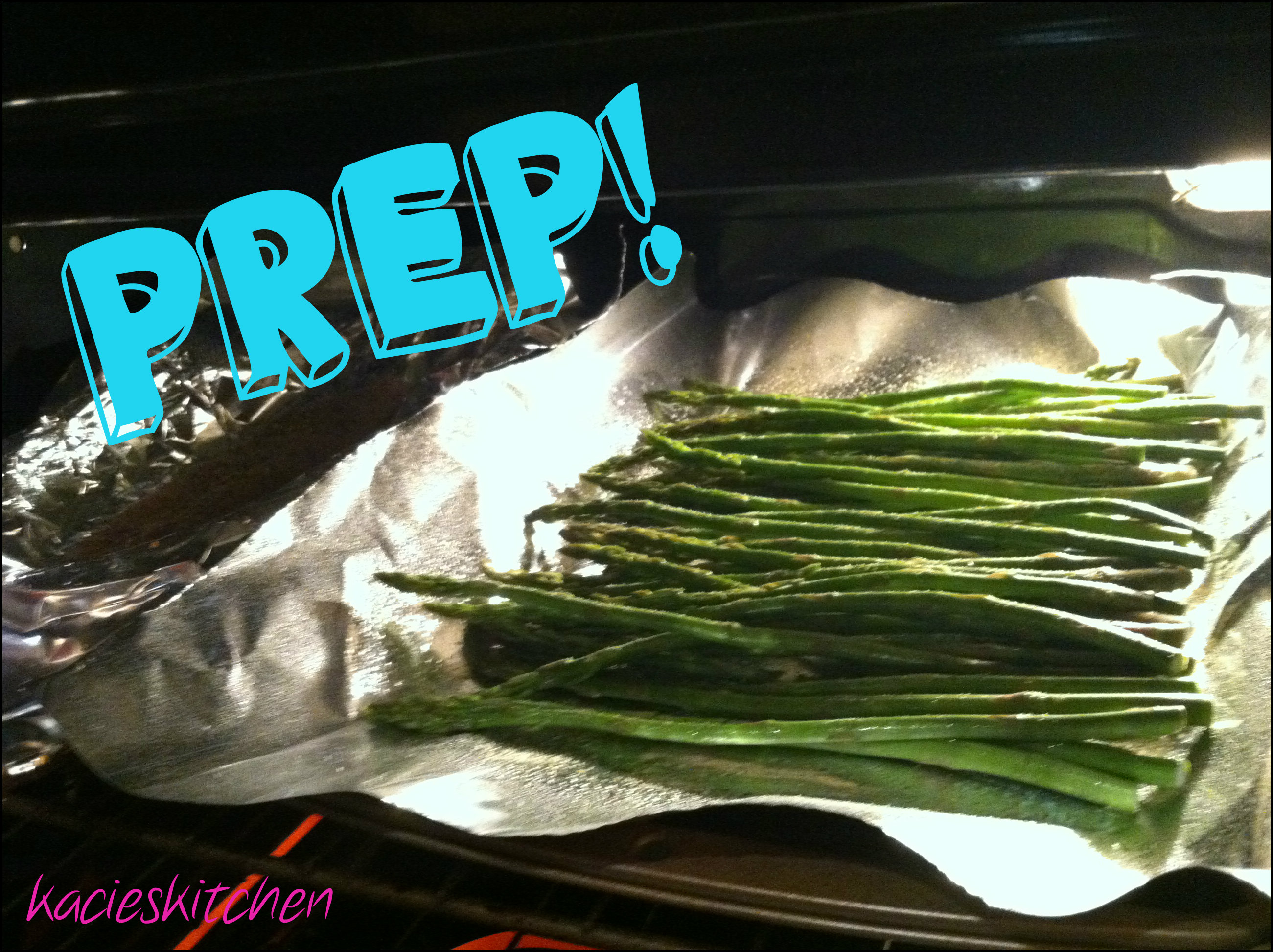 Prepping is powerful!
By 'prepping,' I mean food prep–preparing your meals in advance. If you (like me) are trying to balance a busy schedule with a healthy lifestyle, this is the best thing you can do for yourself. It will ensure that you have healthy options ready to go, and you won't be scrambling when you're trying to get out the door. Not only will it save you a ton of time in the end, but it is so much healthier than eating out. I will occasionally grab sushi or a Greek salad at school if I'm in a pinch, but I prefer not to. Even 'healthy' options that you buy out have so much added sodium and chemicals.
There are days during the school year where I may leave my apartment around 8 or 8:30a and not be home again until 9p or so. The amount of tupperware I use is ridiculous. 🙂 Speaking of which, I have a Sam's Club membership, and they have this awesome Rubbermaid food storage set that comes with tupperware containers of all shapes and sizes. I'm sure they sell it elsewhere, if you don't shop at Sam's Club or Costco (assuming Costco sells something similar). I also recommend an insulated lunch bag.
So try and plan for a week. Think over your schedule and what meals you'd be able to incorporate with what you do (whether you're a nurse, waitress, you have a desk job, you're in school, etc.). Spend an hour or two just one day a week. Two days may be necessary, depending on how much you eat/how long your produce lasts you. This may sound like a time commitment, but nothing is more helpful (in my experience) in terms of making my week run smoothly and also being able to maintain a healthy diet.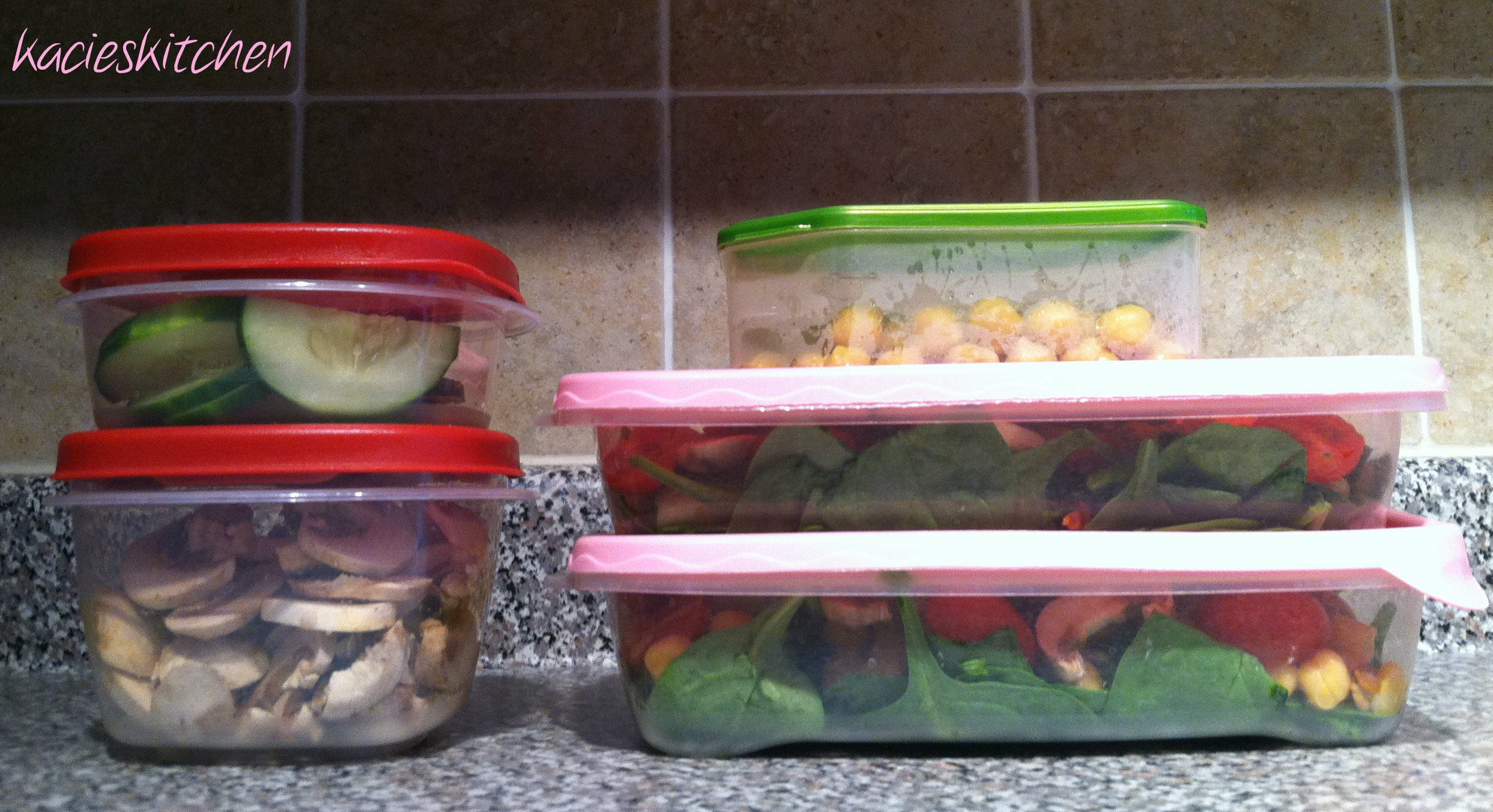 Here's what a typical day looks like for me. I try to have 5 small meals (as opposed to 3 large meals with snacks, if that makes sense). In other words, all of my meals are calorically-equivalent, for the most part. I find that this sustains me better and is also more enjoyable.

Meal 1: Right now, I am obsessed with scrambling my eggs with broccoli slaw. I always add an extra egg for Milano. 😉 Or I'll have 2 eggs with sauteed mushrooms, spinach + tomato.
Meal 2: a Lara bar. These bars are made of unsweetened fruits, nuts + spices, and they are free of gluten, dairy + soy (they are also non-GMO). My favorite flavors are blueberry muffin, coconut cream pie and peanut butter chocolate chip.
Meal 3: A salad: baby spinach as a base + veggies (I like to mix it up). Sometimes I add chick peas. Sometimes I add avocado. Sometimes I eat a can of albacore tuna separately (I think it makes my salad gross when I store them together). I use either balsamic vinegar or Hendrickson's for dressing. Oo, another current favorite is Annie's Naturals Organic Papaya Poppy Seed Dressing.
Meal 4: A piece of fruit + peanut butter. A protein shake or smoothie is also good (I don't really like mine unless it's made with ice + a blender lol).
Meal 5: Usually fish (cod, mahi, ahi tuna, tilapia) + veggies (green beans, asparagus, brussel sprouts).
Have all of your fresh veggies chopped and stored in containers. Make an entire sheet of asparagus or whatever else you like, rather than individual serving sizes, day-by-day. Bake several pieces of fish at once. I'll rinse and put three cans of chick peas into a large container, so that I can just scoop out when making my salads. Make a whole pot of quinoa. Things like this will save you so much hassle throughout the week and you won't be caught without healthy options to fuel you throughout your day.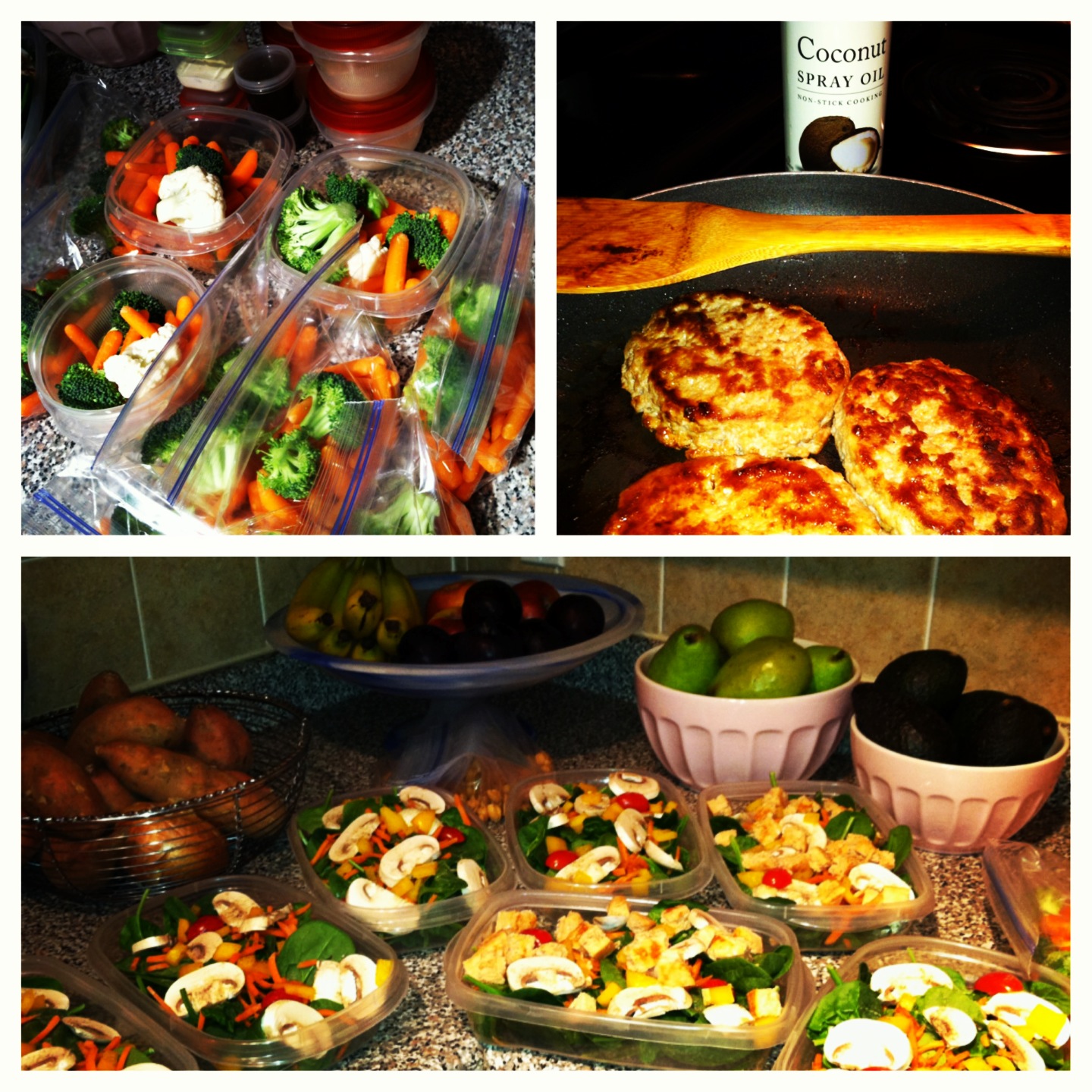 Oh, and I've mentioned before that I love tea. I usually have tea at night. One of my favorites is Kava Stress Relief by Yogi – it is organic, caffeine-free, and it eases tension and promotes relaxation, which I need. 😉 I don't add anything to my tea. (Note: I am not compensated for endorsing anything on Kacie's Kitchen–I just like to share with you products that I use regularly.)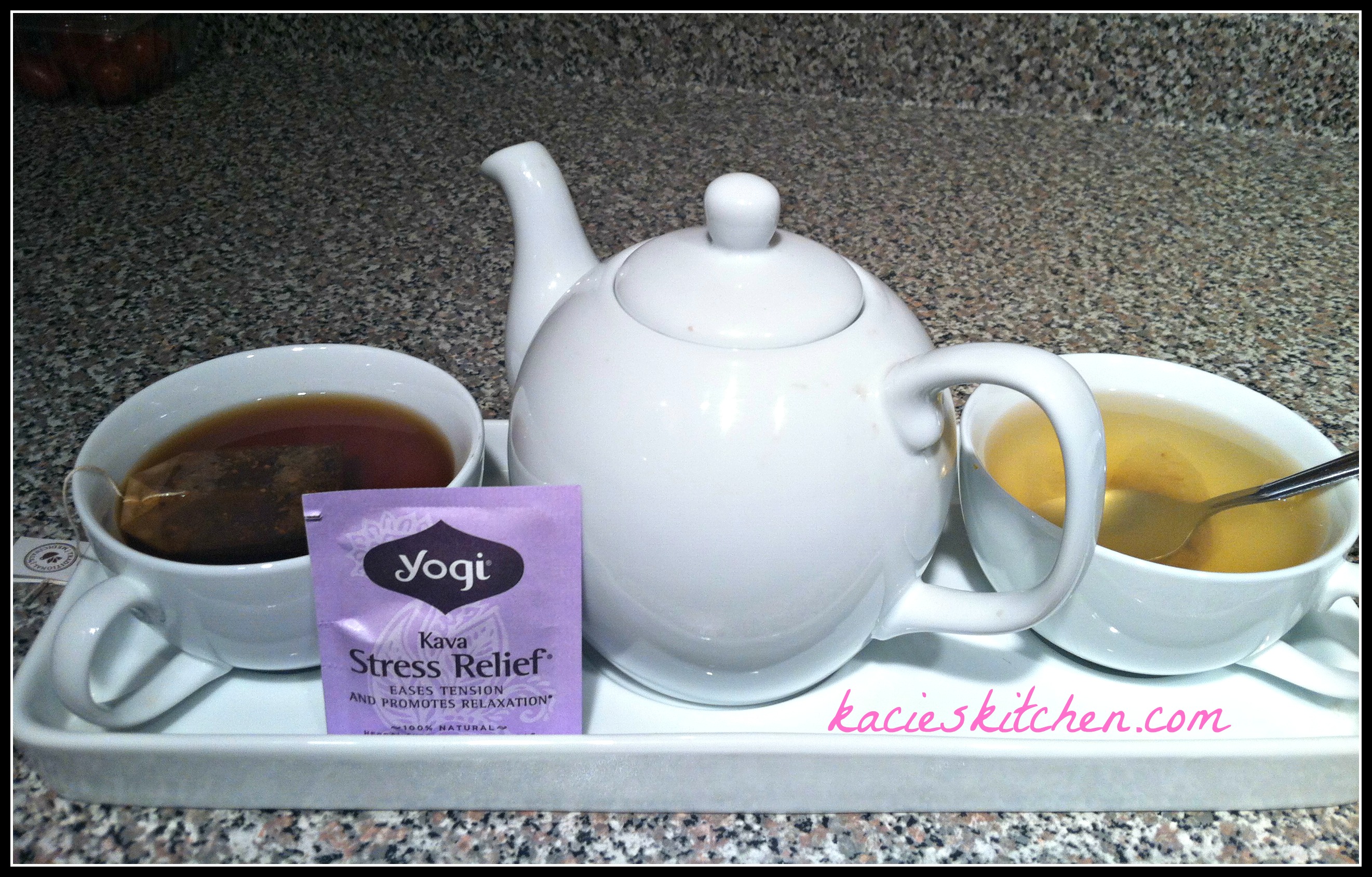 The one on the left is Kava – the other is chamomile tea.
Cheers to good health and being prepared 😀
– Kacie