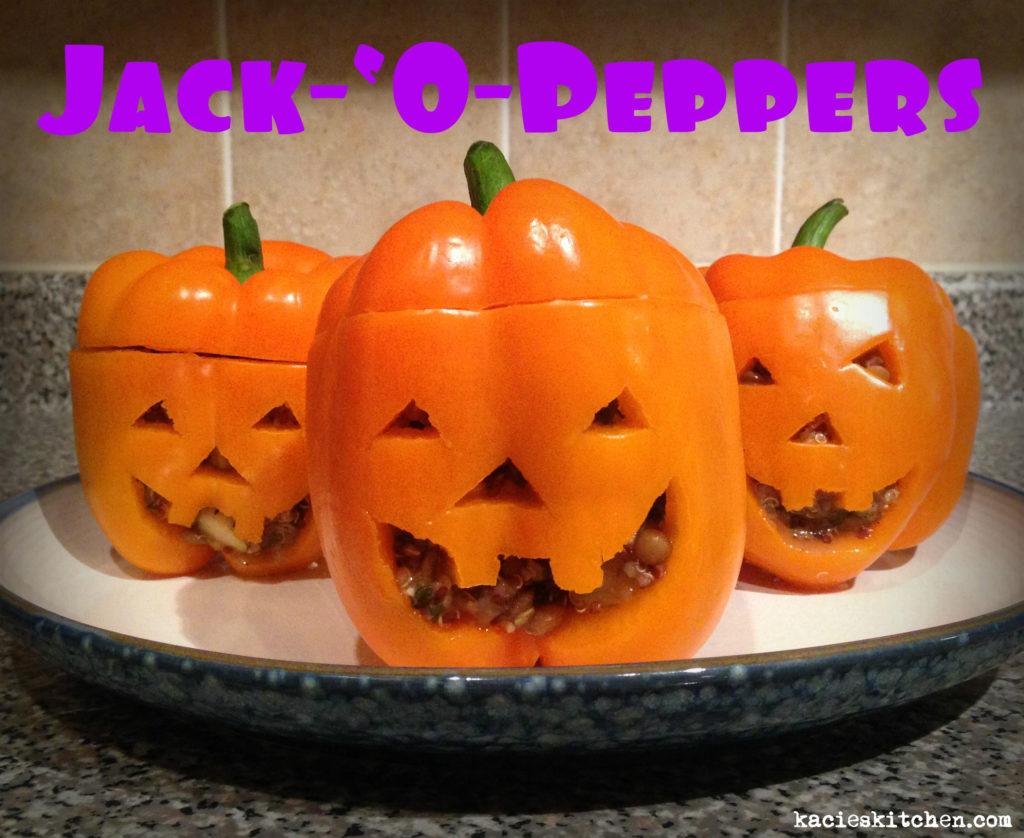 I got this recipe from Registered Dietitian Ashley Harper Evans. I think they are the cutest. Not only is this recipe extremely healthy, but these peppers are seriously adorable for the fall season. Peppers are one of my favorite foods, so I had to give it a try. Note: this is a vegan recipe, but you could easily incorporate meat if you wanted to.
Ingredients

6 orange bell peppers
1 tbsp. coconut oil
1/2 onion, diced
1 carrot, diced (I used baby carrots b/c that is what I had in my refrigerator – I used 12 baby carrots)
1/2 c. chopped mushrooms
1 tbsp. minced garlic
1 c. uncooked quinoa (I used 1/2 c. each of red and traditional quinoa to mix it up)
1 c. dried lentils
5 c. water or unsalted vegetable broth
2 c. spinach, chopped
1 zucchini, diced
1/2 can chopped water chestnuts (if you're not a fan of water chestnuts, neither am I, but I didn't mind them in this recipe)
1/2 tsp. salt (or to taste)
1/4 tsp. ground pepper
2 tsp. dried thyme
1/4 c. balsamic vinegar
Directions
Cut the tops off of the bell peppers and reserve for serving. Remove the seeds and rinse.
Using a small pumpkin carver, cut two eyes, a nose and a mouth into each pepper.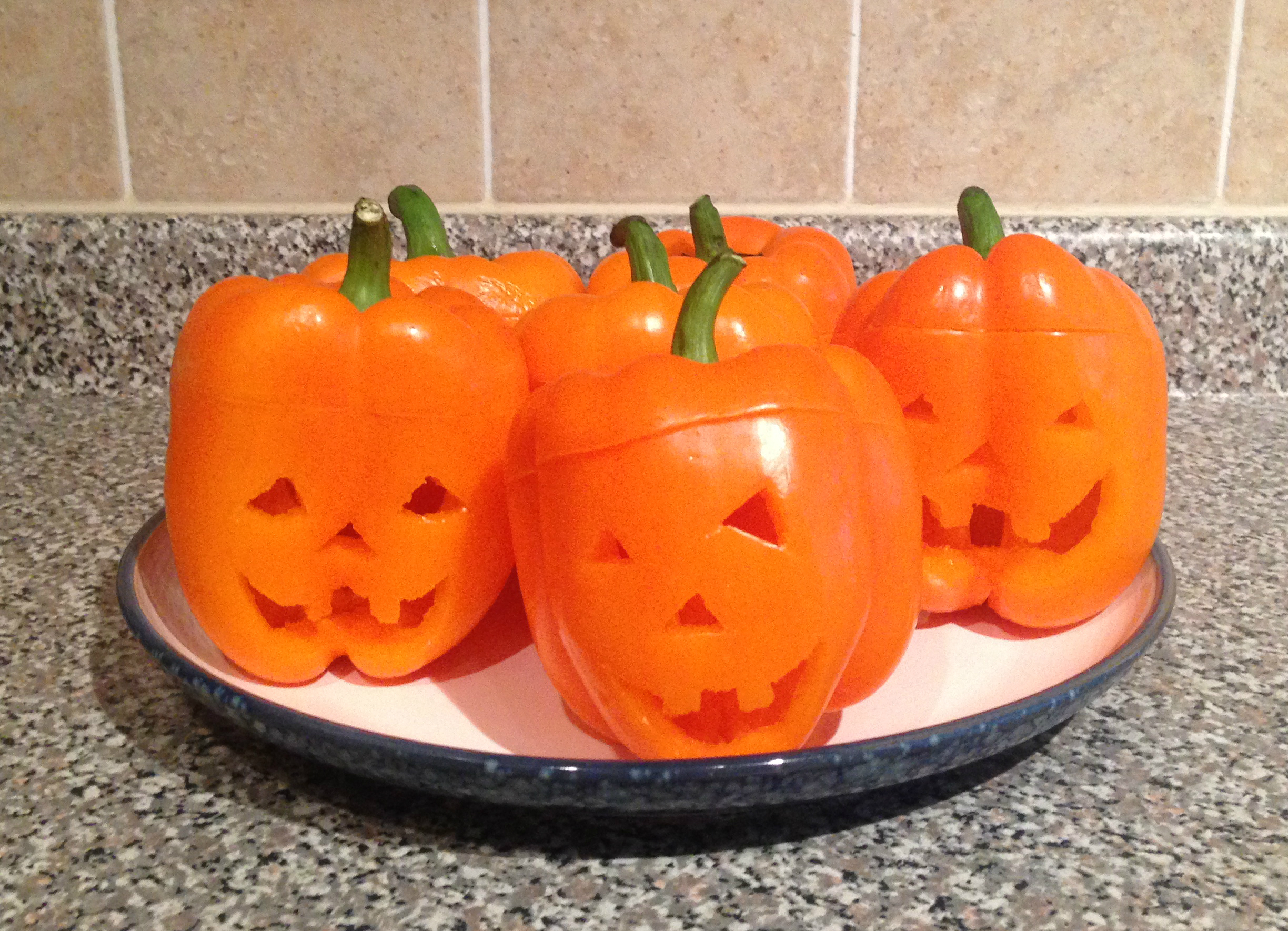 In a large pot, heat the oil over medium-high heat. Add the onion and carrot and sauté until translucent and browned. Add the water, lentils and quinoa and bring to a boil. Lower the heat, cover and cook for approximately 20 minutes. Add the rest of your ingredients and stir to combine.
Stuff each pepper with the mixture and place the tops back on.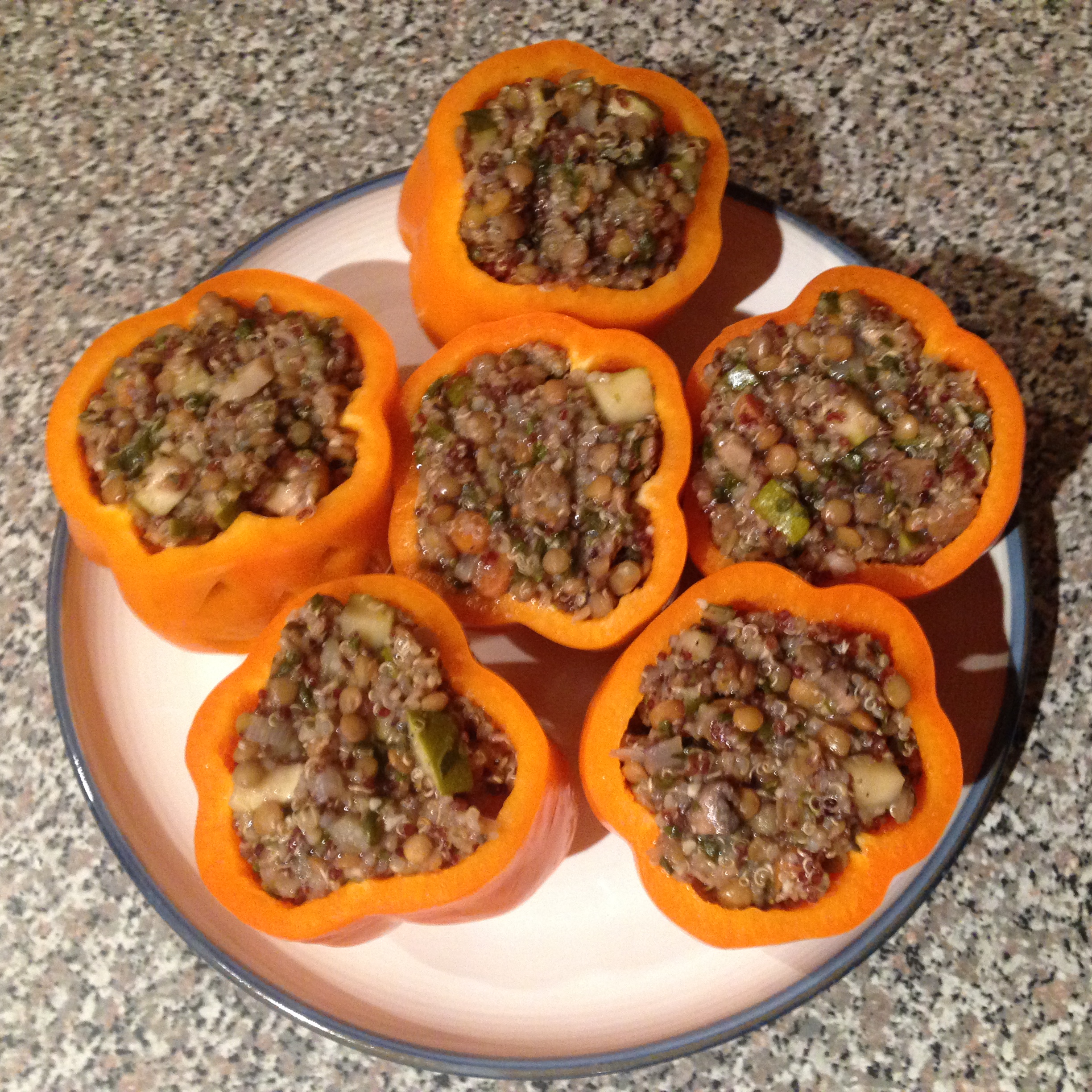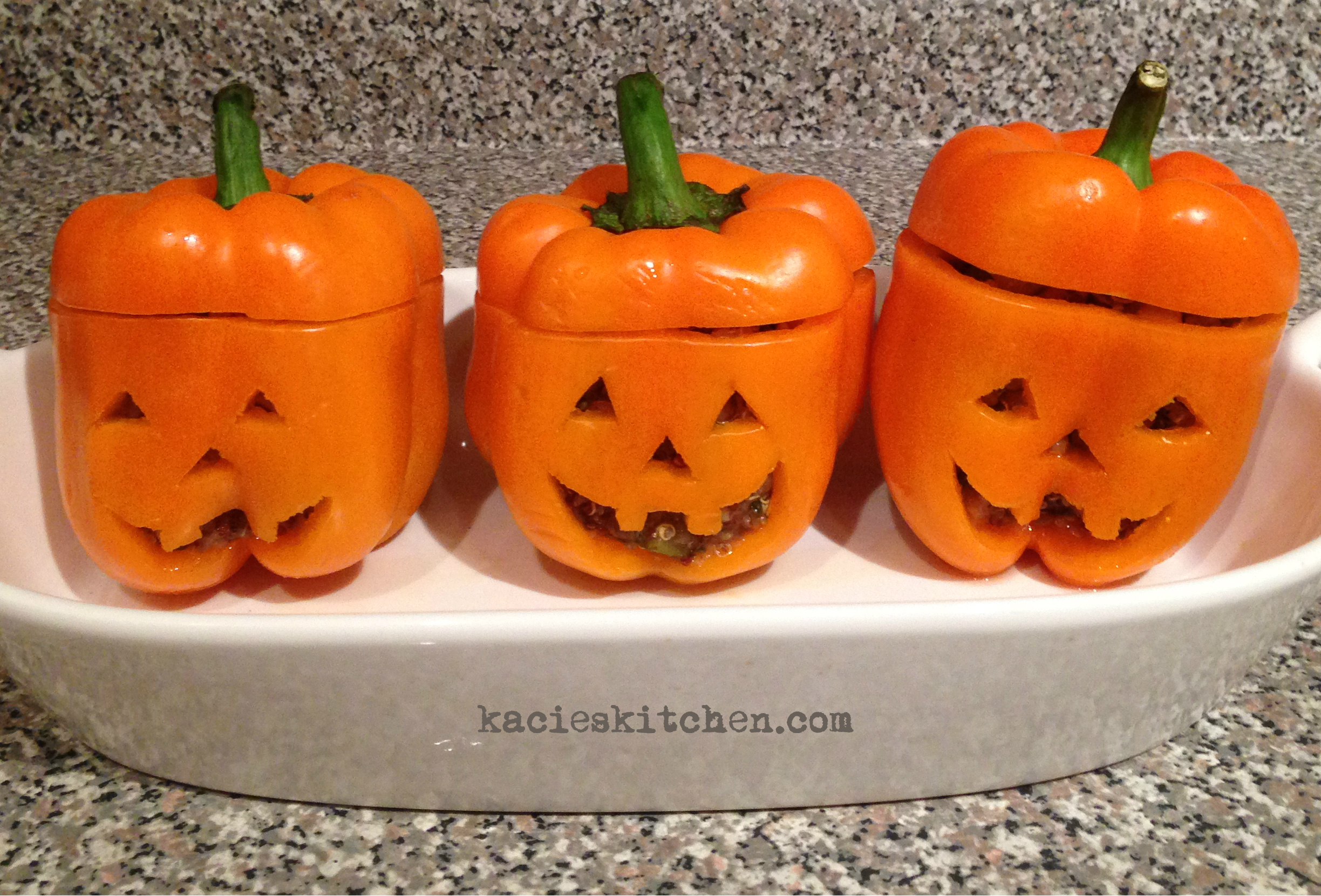 Note: the original recipe said to place the peppers on the grill (low heat) and warm until ready to serve. Instead, I covered them with foil and put them in the oven at 375°F for about 35 minutes. They actually hold together extremely well.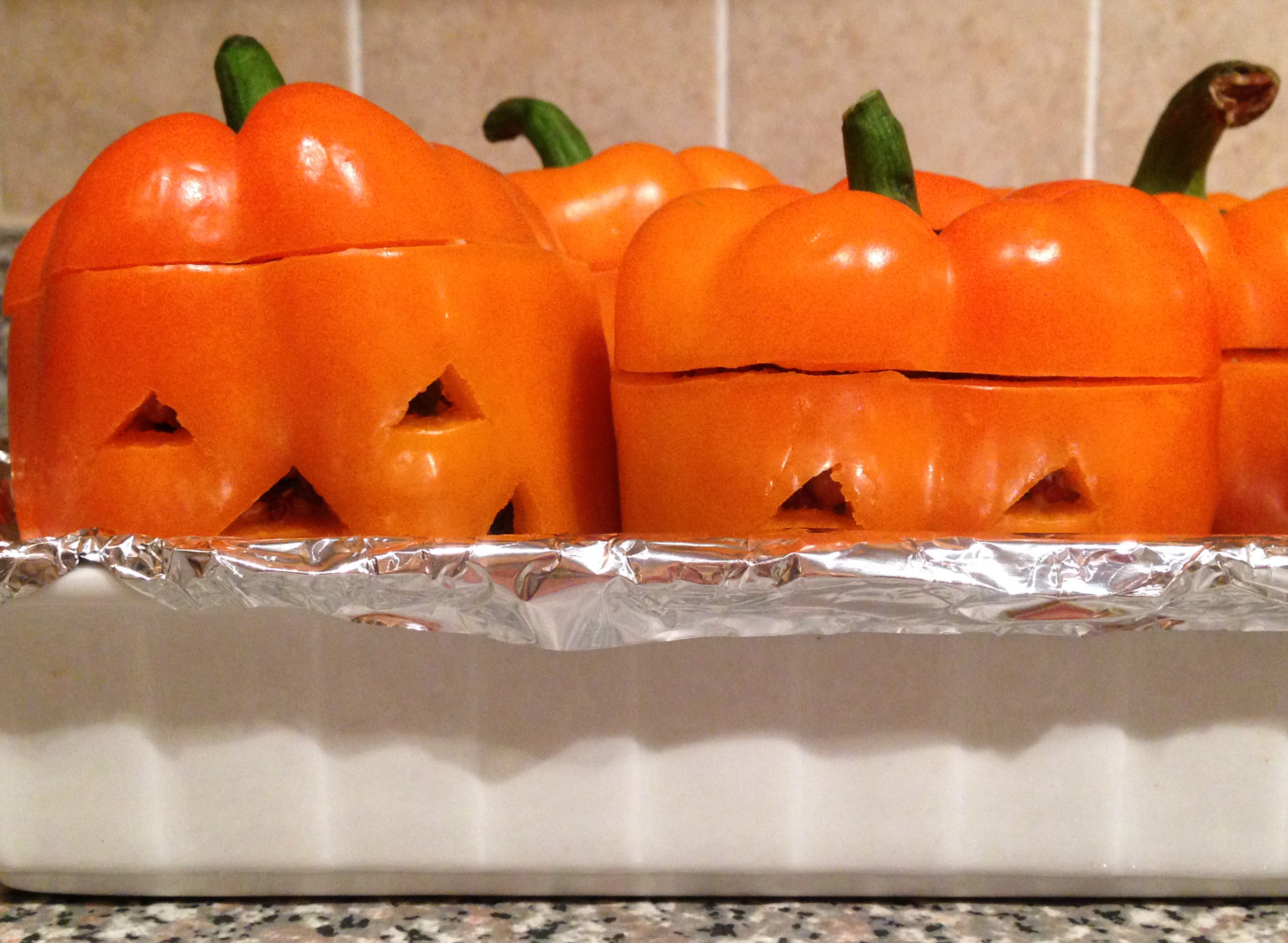 Serve and enjoy!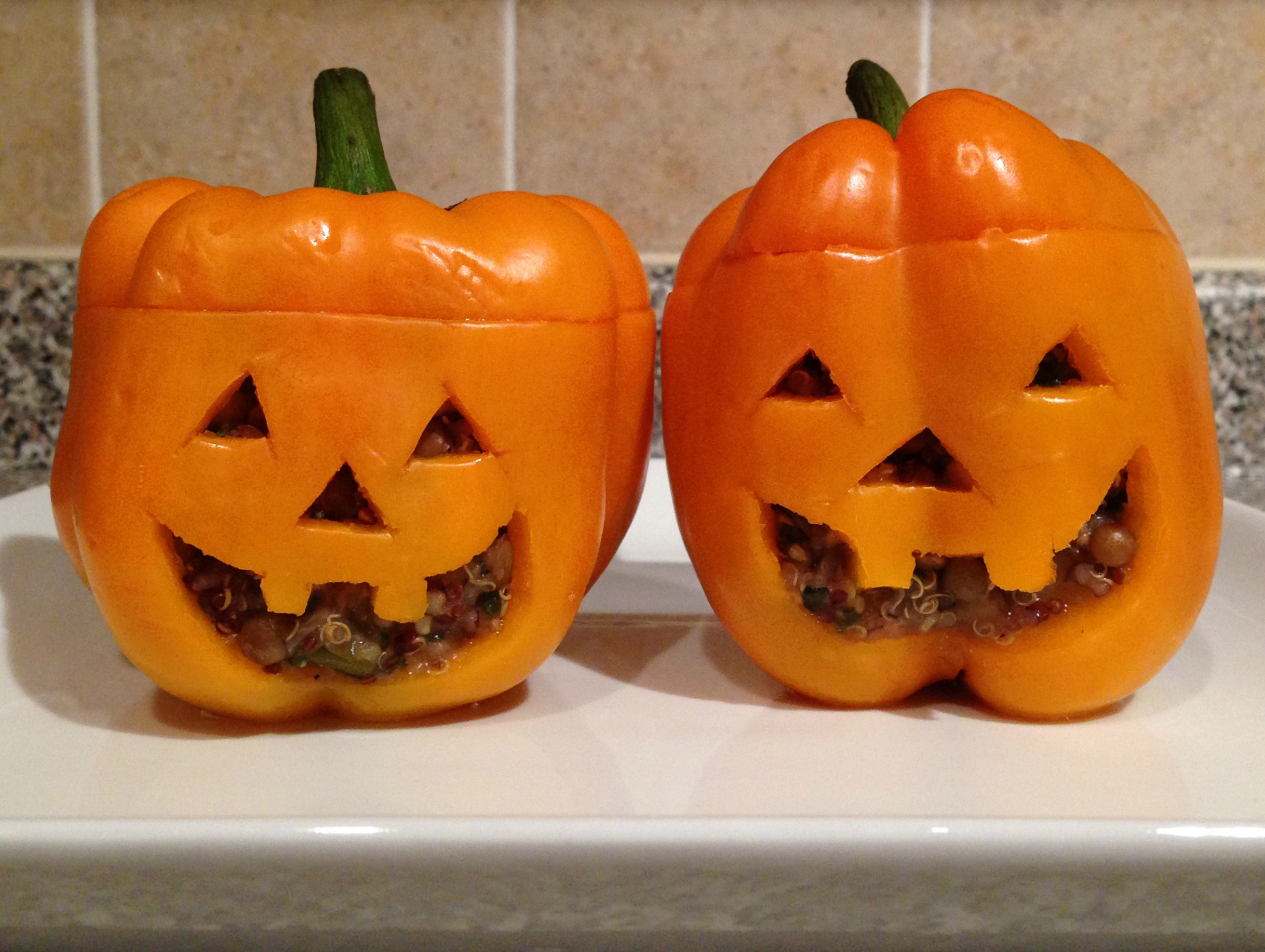 Have a happy and safe Halloween, everyone!
– Kacie