Usually on Friday nights, Chris & I make pizza. It's become a Friday-night ritual. Eventually, I'll make a post about that because we have made so many awesome variations. However, all of the bread and cheese tends to send me straight into a food coma. So last night, I wanted to go for something lighter so that I could stay awake and enjoy my evening. Chris picked up the tuna steaks from Trader Joe's on his way home from work, and aside from what we already had at home, we got the rest of the ingredients from Publix. We made this salad, had a couple of Leinenkugel's Harvest Patch shandies and watched Love & Mercy, a movie about Brian Wilson of the Beach Boys. 🙂 (The shandy doesn't so much pair with the salad, but it is perfect for fall and we sipped on them while prepping.) Anyway, this is one of the best salads I have ever made.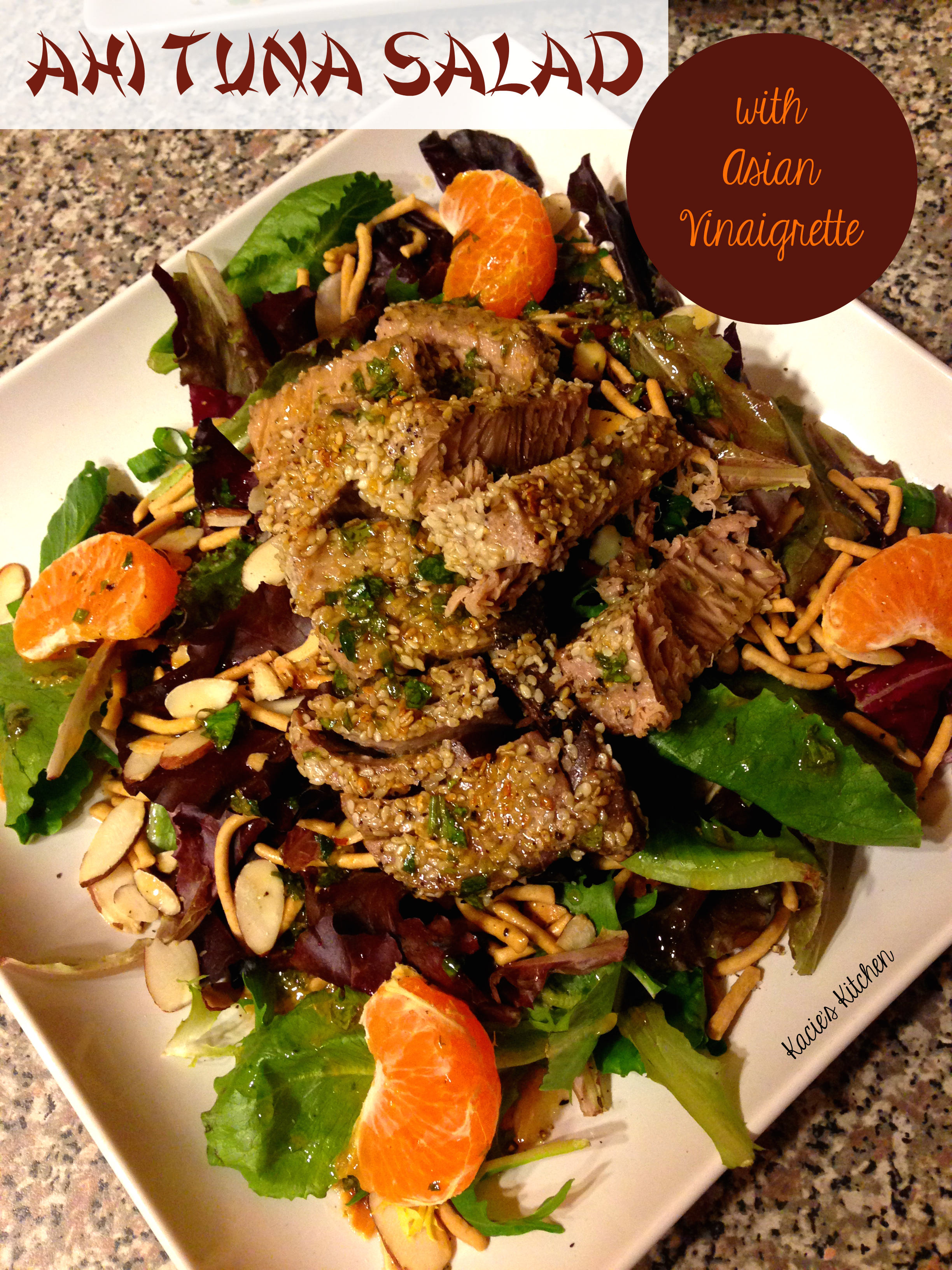 Ingredients
1/4 cup rice wine vinegar
1 tablespoon soy sauce
1/2 lime, juiced (or 1 tbsp. lime juice)
1 teaspoon grated ginger
1 teaspoon Chinese mustard
1 tablespoon chopped cilantro
1/2 cup olive oil
1 1/2 pounds Ahi tuna loin, cut in 4 strips
Salt and pepper
2 tablespoons coconut oil
1/3 cup sesame seeds
~8 cups greens of your choice (I used Spring Mix)
2 green onions, chopped
1/2 cup fried rice noodles
1/4 cup slivered almonds, toasted
1 clementine orange, peeled and sectioned
Directions
In a small bowl, whisk together the vinegar, soy sauce, lime, ginger, mustard and cilantro. Pour in the olive oil and continue to whisk until emulsified.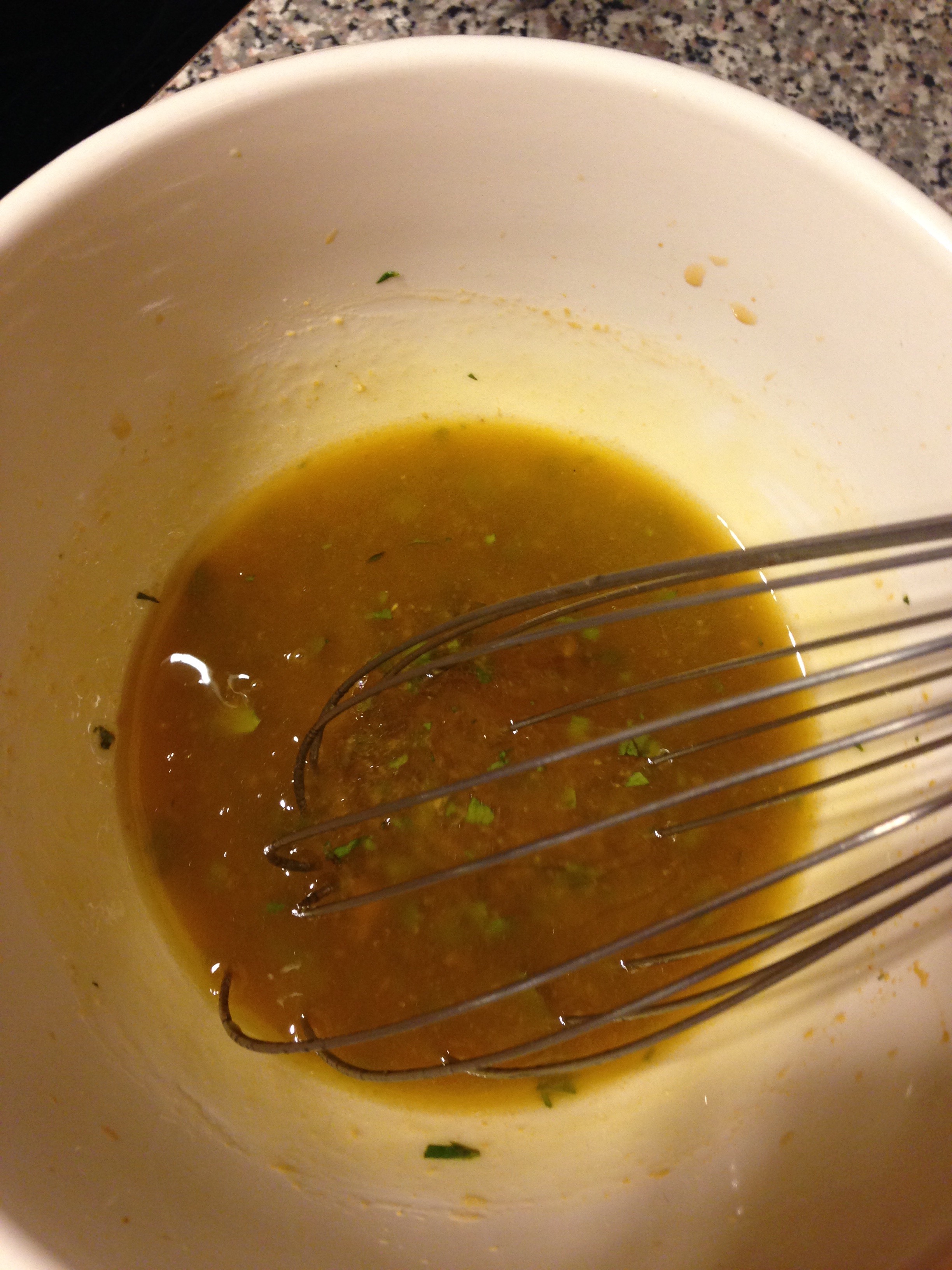 Season the tuna fillets with salt and pepper; lightly coat with coconut oil. Put sesame seeds on a plate. Coat top and bottom of each fillet with seeds. Heat a large, dry skillet over medium-high heat. Add fillets; cook 3-5 minutes. Turn; cook until desired doneness. Slice the tuna into 1-inch thick strips.
Spread the greens out on a platter. Add the green onions, rice noodles, almonds, and orange segments. Lay the tuna strips on top then drizzle with the vinaigrette. Season with salt and pepper and serve immediately.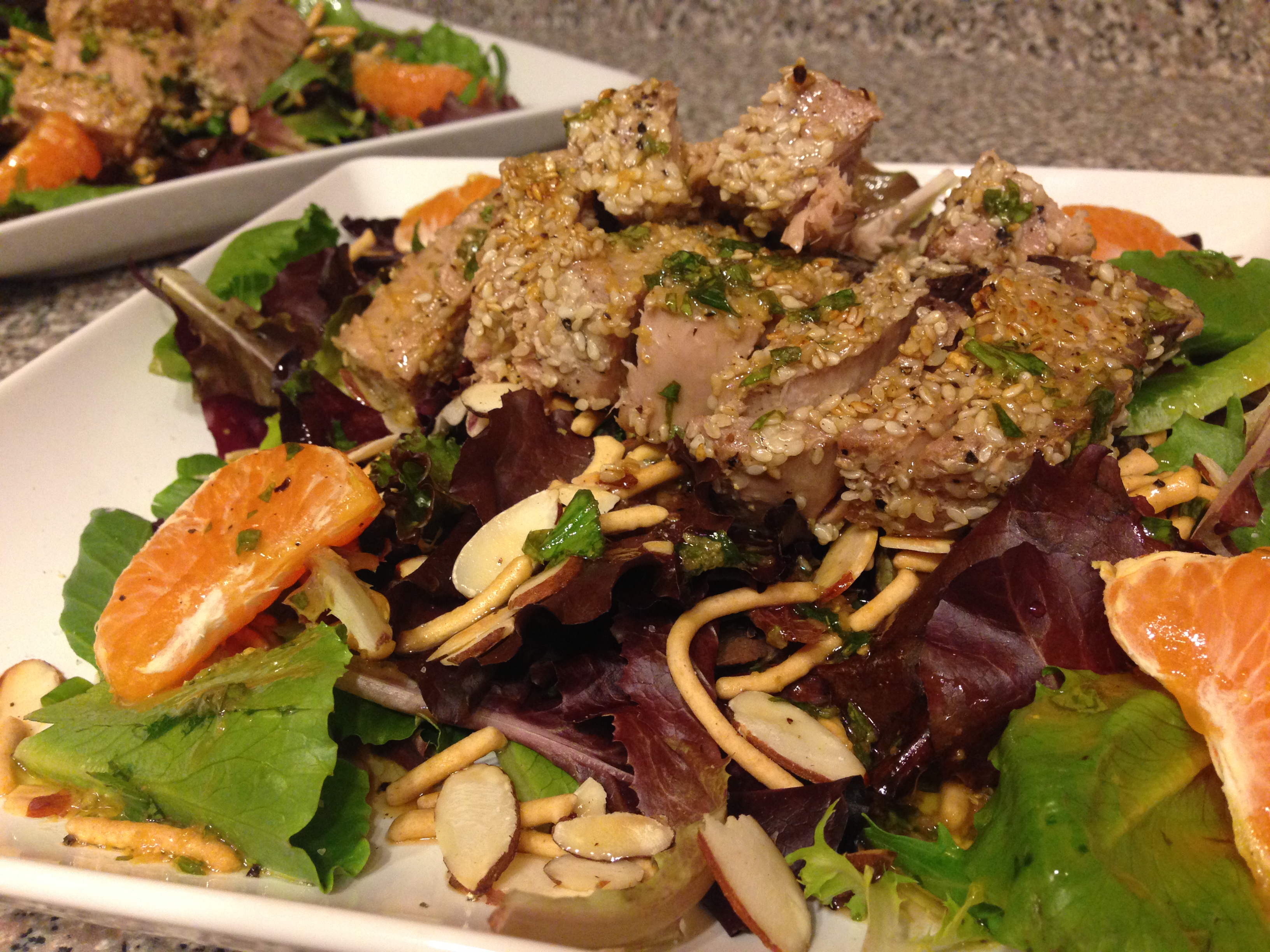 Serves 2-4. Adapted from this recipe.
Konnichiwa!
– Kacie