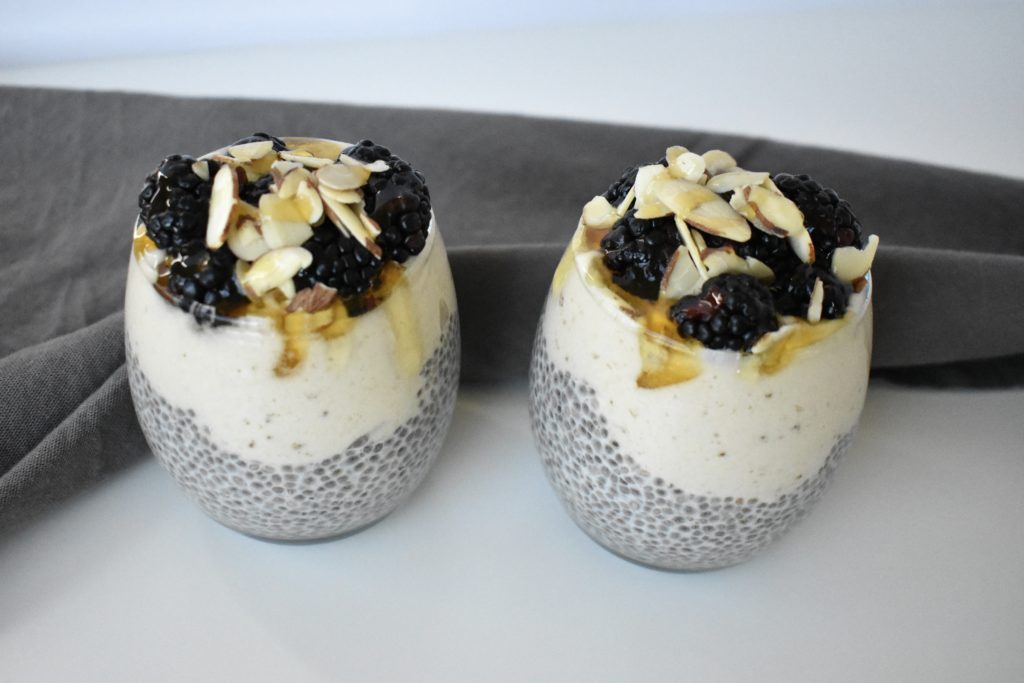 If you've never made banana "ice cream" or tried chia seed pudding, now is the time! We're putting them together in this delicious and super filling parfait. I had this for lunch the other day and was full for hours. It's also good for breakfast, or even a healthy treat.
Don't let the instructions fool you – it's not nearly as meticulous as it may look, I promise! You will need to freeze your bananas and make the chia seed pudding in advance. After that, everything comes together in 10 minutes!
STEP 1: Freeze Bananas
The more ripe your bananas are, the sweeter they'll be.
First, peel your bananas; for this recipe, we're using two.
Slice them into 1- to 2-inch chunks.
Arrange banana chunks in a single layer on a parchment-lined sheet pan, or you can wrap them in aluminum foil.
Freeze for 2 hours (or overnight, if you like).
Frozen bananas are always great to have on hand for smoothies! I feel like banana works in almost any smoothie recipe, and it gives a nice, creamy texture. Yum!
STEP 2: Prepare Chia Seed Pudding
INGREDIENTS
6 Tablespoons chia seeds
2 cups unsweetened almond milk
1/2 teaspoon vanilla extract
1 Tablespoon maple syrup, honey or sweetener of choice (optional)
INSTRUCTIONS
In a bowl or mason jar, combine all ingredients.
Once the mixture is well combined, let it sit for 5 minutes, give it another stir to break up any clumps of chia seeds, cover and put the mixture in the fridge to set up for 1-2 hours (or overnight).
STEP 3: Make Banana "Ice Cream"
INGREDIENTS
2 ripe peeled bananas, cut into chunks and frozen (we did this in step 1)
2-4 Tablespoons almond milk
1 teaspoon vanilla extract
DIRECTIONS
Place all ingredients in a blender and blend until smooth and creamy (think soft-serve texture).
Use a rubber spatula to scrape down the sides of the blender, as needed. (I have a Ninja blender and it tends to splatter everything up the sides of the blender at first.)
STEP 4: Assemble Your Parfait!
Layer the 'ice cream' + pudding in a glass and use whatever toppings you like!
This one's got slivered almonds, blackberries & a drizzle of honey. 😋
De-lish!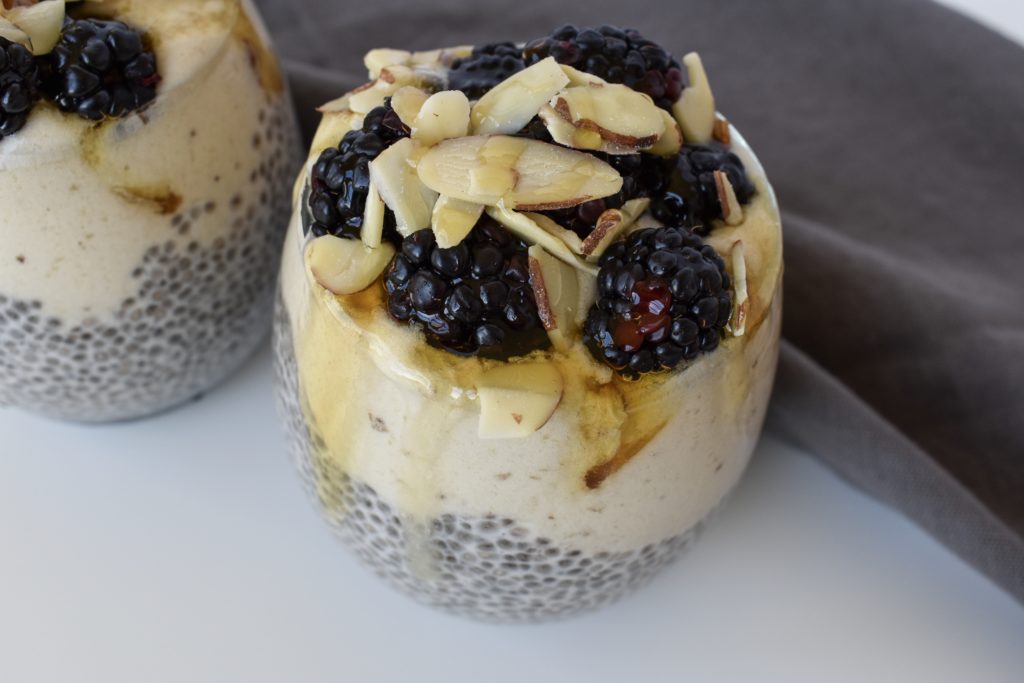 Nutrition Info:
– 450 calories (depending on your toppings – this nutrition info is specifically for the one I made)
– 15 grams protein
– 60 grams carbohydrates (including 24 grams of fiber!)
– 19 grams healthy fat
Good source of vitamins and minerals, like potassium, vitamin C, calcium + iron!
For additional protein, you could add a scoop of your favorite protein powder to the "ice cream," if you like.
This recipe is inspired by Karina Elle.