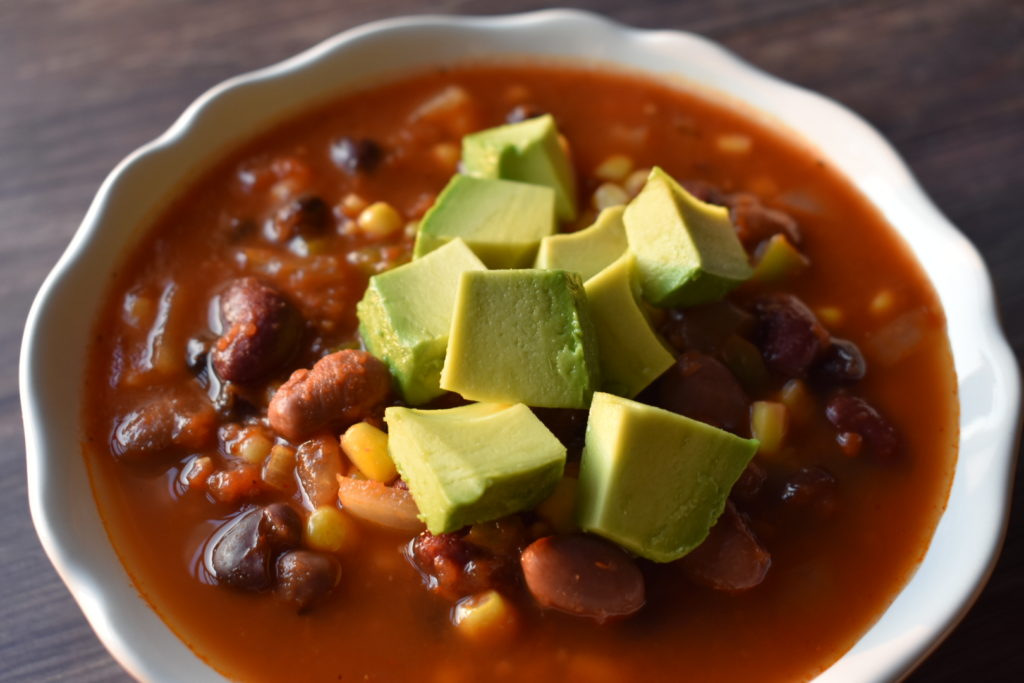 Happy New Year, everyone! I hope all is well. I spent the first week of the new year being sick! 😩 I was so excited for the start of 2018, and then BAM—January 1st—sore throat, body aches, the works. All I wanted to do was sleep! I'm beginning to come back to life this week, thank God. 🙏🏻 
Anyhow, when I'm not feeling well, the only thing I want to eat is soup! Herbal tea & soup on rotation. Last week, I had roasted red pepper & tomato soup, cashew carrot ginger soup, kale & quinoa minestrone soup—you name it, I tried it.
Since I've been on this cold & flu season soup kick, it reminded me to share this tortilla soup recipe that I came up with back in December. It's a vegetarian twist on a Mexican classic! The recipe makes a good bit, so it will probably last you a couple of days, depending on how many people are in your household.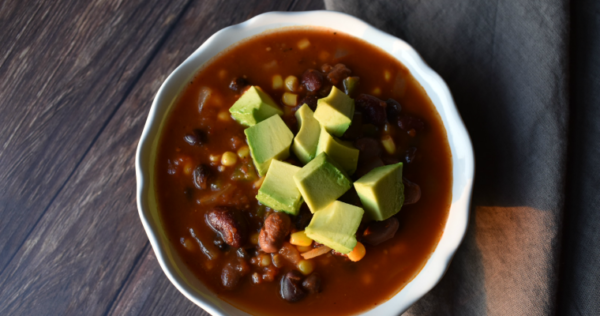 | | |
| --- | --- |
| | |
Prep all your produce first. (Halve, peel & finely chop onion. Cut the top off of your bell pepper; remove core, seeds & ribs, then finely chop. Remove ribs & seeds from jalapeno, then finely chop. Drain & rinse beans.)

Heat olive oil in a large pot over medium heat. Add onion, bell pepper, garlic, jalapeno & spices (see recipe note regarding spices below). Cook and stir until softened and lightly browned, about 5-6 minutes.

Add tomatoes and vegetable broth. Bring to a boil, then lower heat and reduce to a simmer. Cook for about 10 minutes.

Now add beans & corn. Continue simmering another 3-5 minutes.

In the meanwhile, halve, pit & scoop flesh from avocado; chop into cubes. This is to top your soup and is optional, but recommended. You can eat the soup plain if you like.

Divide the soup between bowls and top with avocado and your favorite tortilla chips.
I didn't measure my spices. The spices listed above are the ones I chose to use, but you could alter them, depending on what you like or what you have in your pantry. I just sprinkle a little of each and then adjust to taste throughout cooking.
I am a huge soup fan! 👏🏻 I love that you can fit so many nutritious ingredients in one bowl. Plus, the preparation is so easy and doesn't require much time. I create soup recipes quite often, using whatever's in my refrigerator/pantry at the time, so let me know if you'd like to see more!
xo,
Kacie